"Finally! A new caravan paint protection that actually works & will protect your RV from becoming dull, while making it easier to wash"
A shockingly effective & new paint protection system that will keep your caravan and motorhome looking like new for years while making washing the the bugs, tree sap and red dust a breeze without the need of hard rubbing.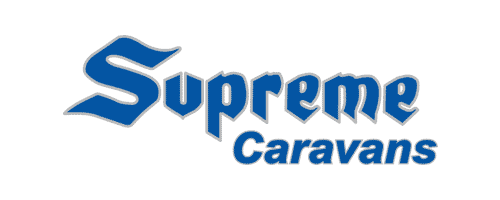 Have you spent months or even years looking for the right caravan or motorhome? Then after spending your hard earned money do you wish you could wrap it in a protective cocoon so it will stay looking new for years?
Does the thought of spending your whole weekend scrubbing and cleaning bugs, red dust and road grime after a trip make your stomach turn?
If you want your RV to look the way it came out of the showroom for years and if you wish dirt would wash easier and quicker..
Then this will be the most exciting message you'll ever read.
Here is why:
Protecting your caravan is the ONLY way to will keep your caravan looking great.
But considering the high cost of caravans and motorhomes and the fact they are designed for the outdoors they surely must be able to withstand the harsh merciless Oz weather 24/7, right?
WRONG!
We have detailed caravans which are less than a year old and they ALL have oxidation.
Unfortunately oxidation and fading are unnoticeable at first because you see your RV everyday. However oxidation progresses until one day you notice that your RV doesn't shine the way it used to.
Also, bugs, road grime and red dust sticks more to oxidised surfaces making it more tedious to clean.

The FACT is, that adding a durable caravan paint protection is the most convenient way to protect your beloved investment.
It protects while it is parked and while it is on the road. It is like sunscreen to your skin.
It protects your RV from oxidation which makes it dull and chalky, and rather keeps it looking new and shiny.
Not protecting your RV is like putting tenth of thousands of dollars in a bank account that takes a small fee everyday instead adding any money. That is because the elements progressively deteriorate the exterior of your caravan.
After a huge investment Dave wanted to have the peace of mind that his Zone RV will be protected from the elements. Being an extremely busy father and businessman he also wanted the cleaning time to be easier and faster.
We came in to apply a caravan paint protection and after inspection we were shocked to find that the surfaces had oxidation.
He only had his caravan for a month but it was a scorching hot summer month.
So the plan changed and we had to polish the caravan before applying the caravan paint protection to remove the oxidation.
This proved to us that deteriorating begins from the moment the caravan steps outside.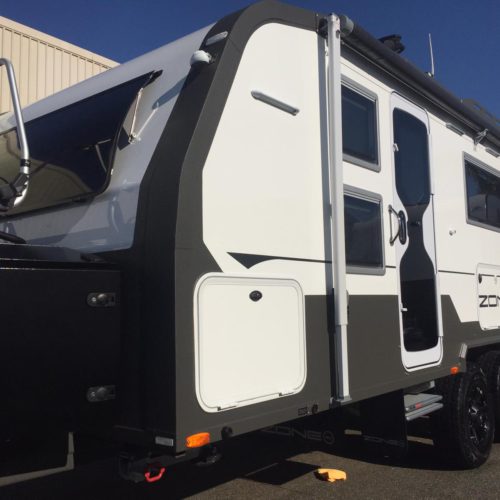 Paint protection is not worth it! save your money and just wash your caravan regularly.
Maybe that is what you are thinking… or heard other people say.
So you go and wash your new van with a wash and wax hoping that it will keep your van shiny, forever.
If so, you will be disappointed, it is just a common old myth.
Washing your van won't protect it, it will just clean the dirt off, just like having a shower cleans you but doesn't protect you from getting sunburnt.
The wax in the wash and wax, is extremely diluted and does not offer any effective protection.
Perhaps you tell yourself you will use a caravan cover after every trip.
Don't get me wrong, a cover is a great option. However many people only use once or twice because it is a real hassle to get that thing over your van.
The fact is, choosing the right caravan paint protection AND applying it correctly is crucial for the protection efficiency and durability.
The problem is that…
many applicators are doing it all wrong!
That is a harsh statement but let me explain…
Many applicators take the one size fit all approach and make the common mistake of applying an unsuitable paint protection to the surface being applied to.
Eg, applying a paint protection suitable for a car's clear coat to a gelcoat caravan.
Gelcoat is a porous material and it needs a paint protection with more toughness with extra oomph to withstand the constant exposure to the harsh elements.
You see…paint protections are not all created equal. 
They have different concentrations of different ingredients such as water repellent and chemical resistant properties and UV inhibitors.
Another common mistake is applying a caravan paint protection to an oxidised  surface. 
The protective coating won't bond well with an oxidised surface and it won't last as long.
Guarantees that belong to science fiction!
A disappointing truth is that, even brand new caravans have oxidation on the surfaces, this is common with gelcoat composite panels.
And many applicators fail to recognise this problem.
Even though a caravan is brand spanking new, the panels are pre made and kept in storage for months or years, accumulating oxidation if not stored under the right conditions.
The same so called "experts" who can't assess oxidation on the surfaces are offering 10 years or lifetime guarantees in order to lure uninformed customers to their snares and make money fast.
We have detailed many caravans who had been "protected" and promised a lifetime of protection.
But lifetime only lasted few months…
That is why we were called in, to polish and restored the surfaces because their protection failed.
Applying it the right way!
At last, A New CARAVAN PAINT PROTECTION that work!
How is our caravan paint protection different?
To start with, it is a marine grade paint protection.
Formulated to protect gelcoat and painted aluminium surfaces exposed to the constant harsh elements and the corrosive salty water.
It is actually not a ceramic nor graphene protective coating.
Our product utilises similar technology that is used in a non stick pan, only beefier and enhanced to achieve its efficient durability and performance.
The 3 main magical ingredients are polytetrafluoroethylene, paraffin and silicon.
These 3 ingredients alone offer fantastic resistance against water spots, chemicals, UV rays, oxidisers, contaminants, heat and abrasion, something that ceramic coatings have trouble contending with.
If you think cleaning your caravan is as exciting as weeding your lawn on a hot summer day. 
Our marine grade coating will make your caravan very slick making washing it a breeze and you will not have to spend your weekend scrubbing each bug at a time. 
Here comes a scientific word, hydrophobic. It simply means that our caravan paint protection will repel water like a duck's back to water. Reducing permanent water spots and making easier to remove.
It will protect your caravan from oxidation and UV damage, keeping your caravan looking new and glossy for years. 
Keeping your caravan looking the best it possibly will definitely help in having a quicker sale with a higher resell value than a faded old and ordinary looking caravan would.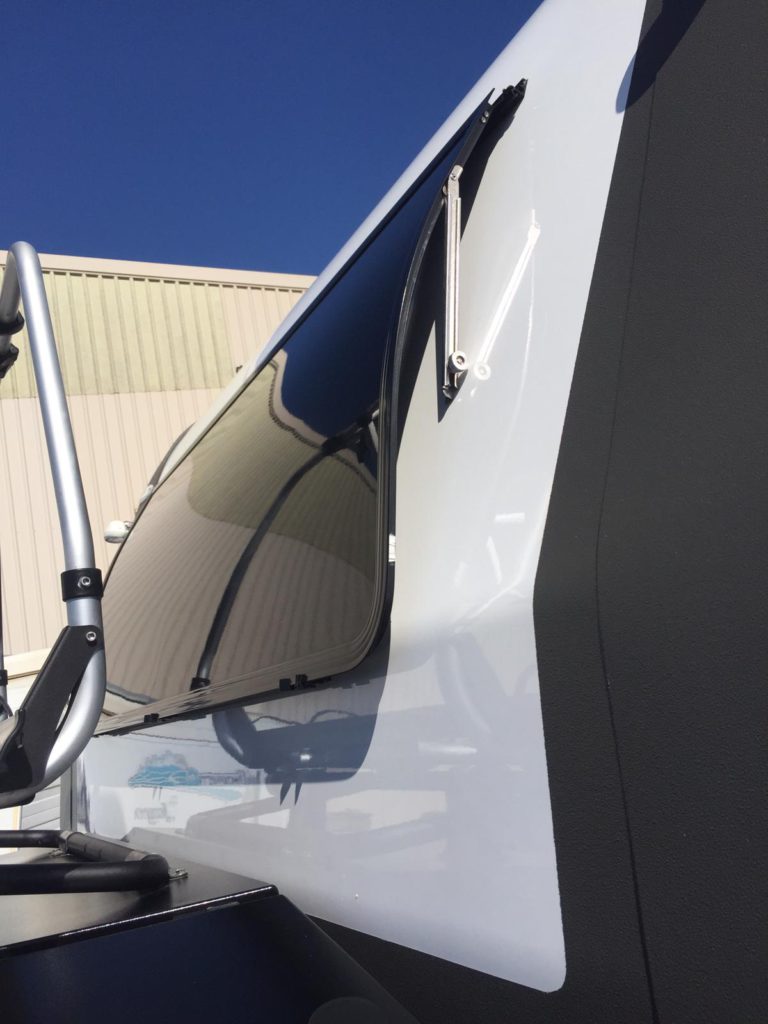 A CLEVER PROACTIVE INVESTMENT
The starting cost is $1600 for caravans up to 20ft.
This amount of money is equivalent to spending two $5.12 cups of coffee per week for a 3 year period which is less than what most busy people spend on outings and treats.
If you were to have your caravan polished every year to keep up with the oxidation it would cost in average around $550 per year and around $1650 in 3 years. 
The disadvantage with this method is that your caravan would be going in a cycle of oxidation free after polishing to oxidation. In the oxidation stage, it will begin experiencing irreversible damage and deterioration. 
Although fading and oxidation can be fixed by polishing it does not fix the damage caused by the extreme UV rays to the surfaces which builds up in the period of oxidation. Damage ranging from fibreglass/gelcoat getting pitted or developing bigger pores, to painted surfaces and some composite panels having their topcoat broken down, to decal cracking and fading.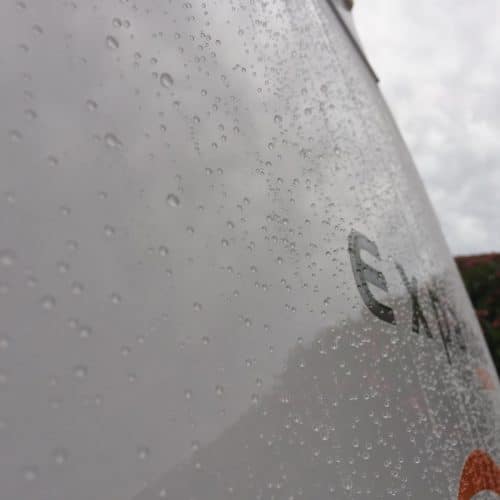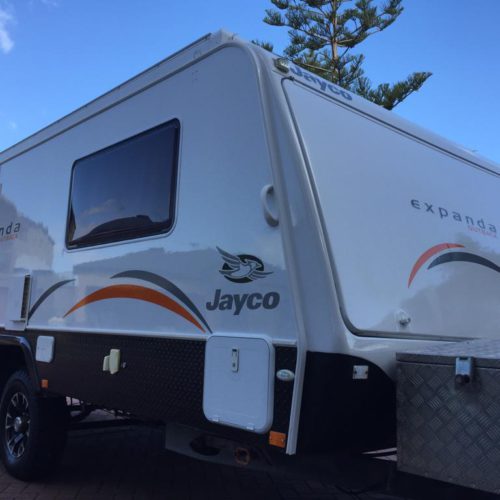 Not to mention that life gets in the way and your caravan may not even get polished every year increasing the amount of deterioration.
Once a caravan has experienced severe weather damage and has gone past the point of restoring like new by polishing, the cost for restoration increases.
The cost to remove and replace decals in average is around $600 depending on how many decals have to be replaced and how big they are.
The cost to bring back shine on composite panels with broken top coat with crazing on surfaces costs in average $950-$1200 and the finish will not be like that of a new caravan.
The cost to re spray a caravan will be over $5000.
Overall the cost to be proactive and protect your caravan and keep you caravan like new is much less than the cost of being reactive and waiting for things to get damage before fixing them.
WHAT DOES THIS SERVICE INCLUDE?
* The roof is not included with the above mentioned price but it can be included on request. Polishing is also not included.
If any of the paint protected areas experience evident oxidation and fading we will restore the faded areas by polishing and then re-apply the paint protection FREE of charge within the estimated period.
In our years of experience on the front line we have met many disappointed customers who had their caravans coated by other companies who over promised them a lifetime of protection.
The causes why their caravan's paint protection failed could be any of the following:
Each point is critically important and we both share a level of responsibility on the durability of the caravan paint protection. That is why we have established the following conditional 3 year warranty.